Recovery, Music and Advocacy with Jeremiah Gardner, Hazelden Betty Ford Foundation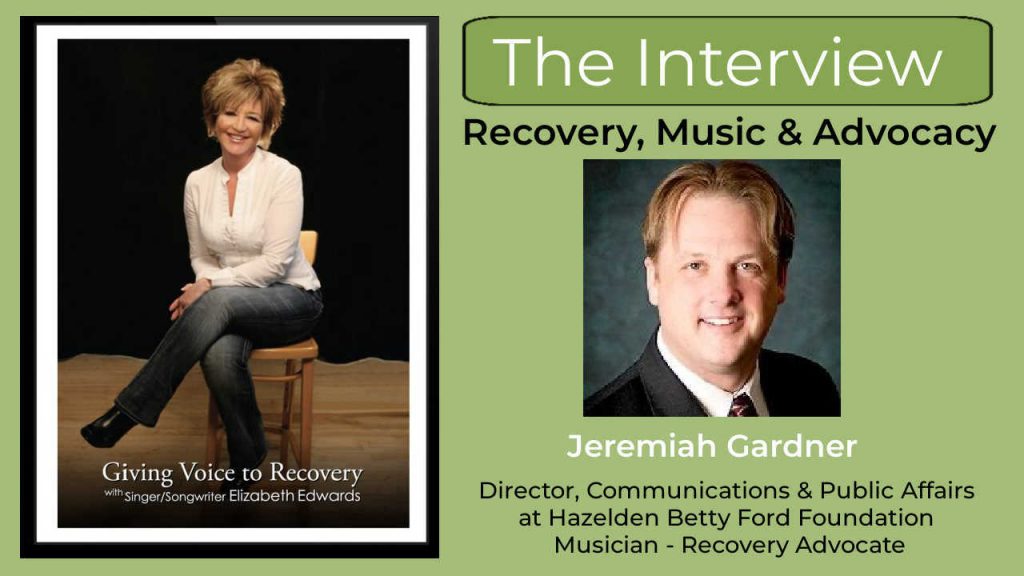 Singer Songwriter Elizabeth Edwards and Jeremiah Gardner, the Director of Communications & Public Affairs at the nonprofit Hazelden Betty Ford Foundation have a conversation about recovery from addiction; music before; during and after recovery; and their mutual admiration of former First Lady and recovery advocate Betty Ford. Jeremiah is a licensed addiction counselor, media and government relations professional, and recovery advocate with a background in journalism, business, and music. Sober since 2006 and grateful for what recovery has meant to his health, relationships, and spirit, he now devotes his career to educating others about the promise of recovery, smashing the stigma of addiction and mental illness, and speaking into related public policy issues. For more about Hazelden Betty Ford: https://www.hazeldenbettyford.org
Jeremiah and Elizabeth both serve on the Board of Directors of Faces and Voices of Recovery, whose stated mission is "Changing the way addiction and recovery are understood and embraced through advocacy, education and leadership." https://facesandvoicesofrecovery.org
Additionally, Jeremiah serves on the Board of Directors for the nonprofit Dissonance. Dissonance examines the intersection of creativity and wellbeing, working to create safe spaces, smash social stigmas, and shape education and business practices relating to mental health, addiction, recovery and compassion in the arts. In short, Dissonance works to create healthy community in and through the arts.Learn more about Dissonance: https://dissonance.org / @dissonancemn
Elizabeth Edwards is a singer songwriter, and recording artist known for her smooth vocals and powerful lyrics. She is a person in long-term recovery from Substance Use Disorder. She is a speaker and advocate for recovery causes and currently serves on the National Board of Directors for Faces & Voices of Recovery. She is the host of the new Podcast Giving Voice to Recovery.
Giving Voice to Recovery celebrates those who have found purpose in using their voice to change perceptions and challenge stereotypes while inspiring hope and providing awareness to those still seeking solutions for addiction.
"There is a healing power in sharing our personal recovery journeys."
👍To Support Elizabeth and this channel please visit the GV2R Boutique:
https://givingvoicetorecovery.net/
The items in the GV2R Boutique are from Elizabeth's Lyrics and Designs and make great gift items to support people in recovery as well as support the podcast and the Giving Voice to Recovery channel.
🎵For more about Elizabeth's Music visit:
💗For more about Elizabeth's Podcast visit:
👉Check out other interviews and videos from Giving Voice to Recovery, enjoy!
▻ Clean – Story Behind the Song OFFICIAL LYRIC VIDEO.
▻Moments with Mark – Comedian Mark Lundholm
▻Coffee With Kristina – Interventionist Kristina Wandzilak
▻ Stigma – Transforming Pain into Purpose https://youtu.be/bLUM7Ks9A1I